You have so many reasons to be happy
Decorate your home with your memories
Exceptional photo gallery walls…
…with a quick-hanging system.
We are with you in your most important moments
Our product
We have perfected our product down to the smallest details.
Frames as in art gallery
Artists who present their works in photography exhibitions deliberately do not obscure them with glass. They want the colours to remain vibrant, regardless of the ambient lighting, and light reflections do not disturb the perception of the photographs.
Thousands of frame layouts for various walls
Easy to select using categories and filters.
Prices include frames with your photos and a hanging template.
High quality materials
Photo gallery wall tailored to your interior.
A variety of papers to choose from
Standard Photographic Matt - deep colors on perfectly matte premium paper (230 g/m2).
Fine Art - 100% cotton with a pleasant texture (270 g/m2). It has a warmer color and surpasses traditional paper in color saturation.
Hahnemühle Photo Rag Bright White - top fine-art paper (310 g/m2), whose texture gives the print an incredible depth.
Handcrafted frames
for every interior
Modern, classic, minimalist or elegant? You'll find it all with us. 
Choose from 6 available colors: black, white, beech, rustic oak, gold and silver. Choose the right frame for the character of your interior and photos in the gallery. Visualization in Framky Studio will make it easier for you.
We manufacture our frames with our own hands from MDF profiles, which are FSC MIX certified.
Passe-partout and matting
When designing your gallery, you have a choice:
Photos without margin, which completely cover the surface of the frame.
Photos with a margin, which gives the frames a more artistic look. It is available in three widths.
Passepartout, or something for real lovers of classics. It is a cardboard inner framing of a photo.
Designing Framky is nothing difficult
In just a few minutes, you can create the perfect photo composition on your wall.
Find the gallery layout for you
Enter the size of your wall. Then look for the perfect gallery layout for you. We have a huge selection of compositions in various styles and shapes. You can also design your own custom gallery layout.
Upload your cherished photos
Don't sift endlessly through photos. Just select a few that bring a smile to your face. You can always replace photos with new ones.
Check how it looks on your wall
Choose the color of the frames. Then, use your phone's camera and our augmented reality to make sure the gallery looks good on your wall and matches the interior.
Easy wall-hanging system
Framky enables hassle-free gallery setup without the need for mess or drilling.
1
Stick the template
Assess from a distance whether the gallery will be hung in the right place. Peel off the template at the end of the gallery installation.
2
Level the template
Measure an equal distance from the ceiling on both sides of the template to make sure it sticks perfectly straight to the wall.
3
Wipe down the wall
Wipe the wall in the designated hanger areas with the alcohol-soaked wipe we include with each order.
4
Stick the hangers
Position the hangers so that their triangular positioners meet those on the template.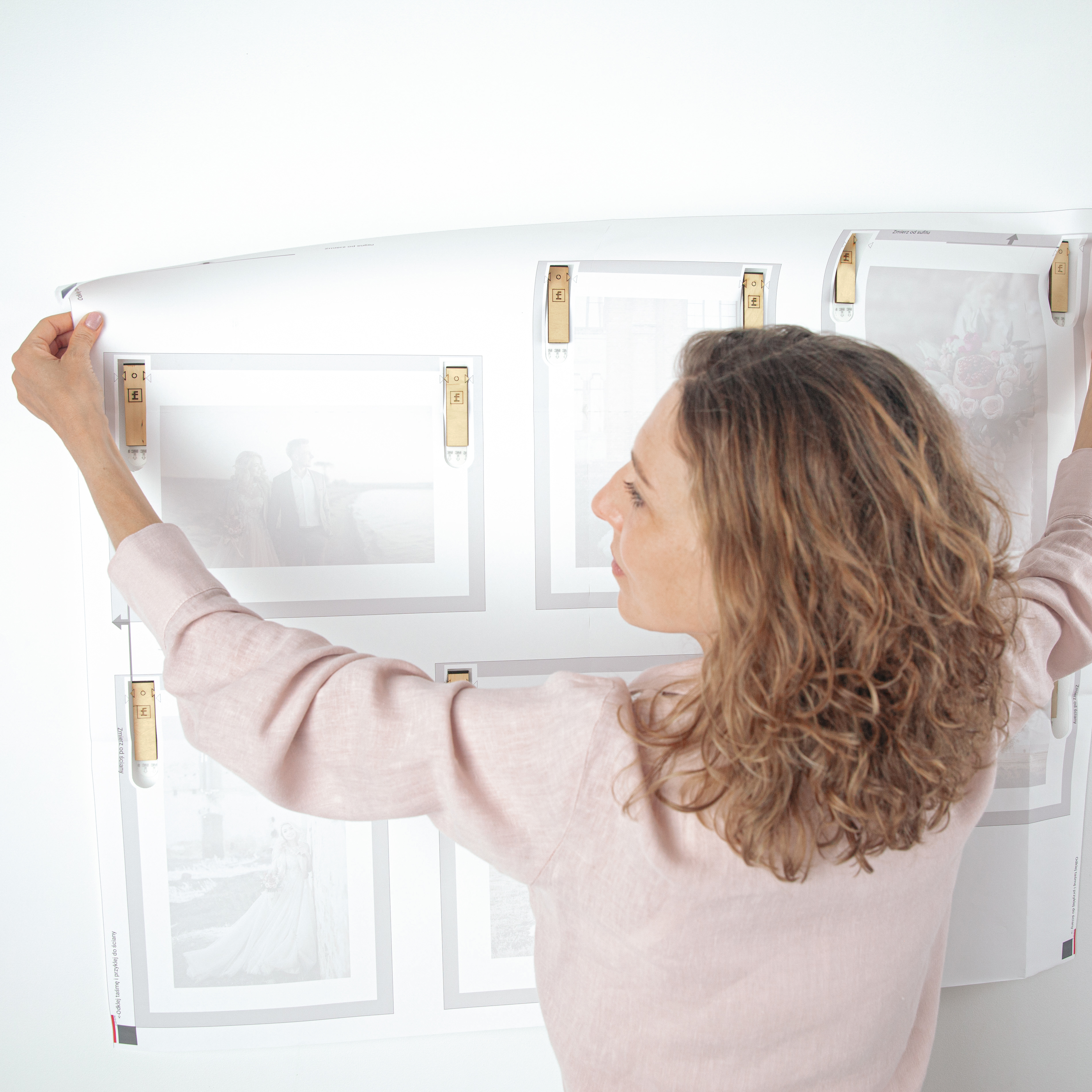 5
Pull the template
Once you have stuck all the hangers, then you can gently pull the stencil off the wall.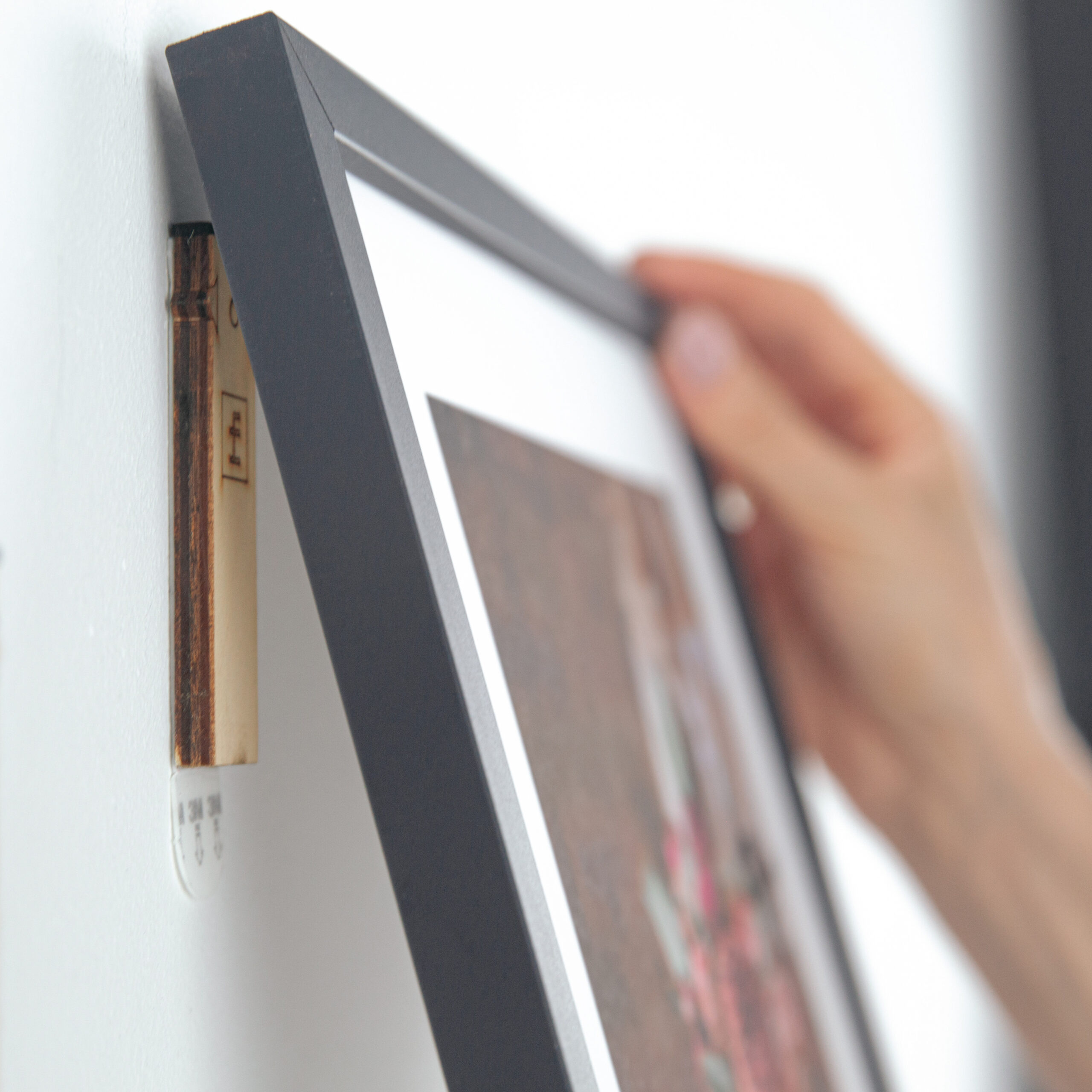 6
Hang the frames
Each frame is to hang on two hangers, so that they are aligned in a straight and even position.
What will you find in the box?
Everything you need to build a photo gallery.
Framky lives with you
Life is constantly creating new stories for us, so we have taken care of the future of your photo gallery.
Enjoy your memories all over again
Framky inspirations
See how your home can be transformed with Framky.
I am delighted!

Framky is beautiful, easy to design and assemble :)  Hanging pictures has never been so much fun! :)

Framky gallery wall is insane!

I like it very much! Easy to use, on hold, everything given on a tray - measuring completely unnecessary!

We all had a great time

While hanging we all had a great time, there was no drilling of holes - happy neighbors, there were no arguments about something hanging crooked - another marriage saved, the son had fun while hanging by himself and arranging the frames like a puzzle.

I highly, highly recommend it!

Framky is the solution I needed. The template included in the package makes assembling the frames a breeze, and the quality of the printed photos is downright stunning. The gallery looks really beautiful. I highly, highly recommend it!
Framky Voucher
The most beautiful gifts are those that have some meaning and carry an emotional message, so give your loved ones a photo gallery that will be a real surprise and take them on a sentimental journey.
Do you have a special occasion coming up? Christmas, a birthday, a wedding, or perhaps someone close to you has just moved into a new home? Give them a unique gift that they are sure to appreciate.